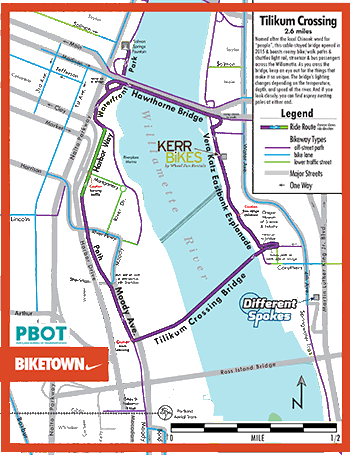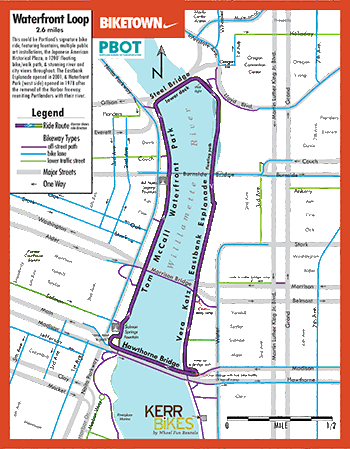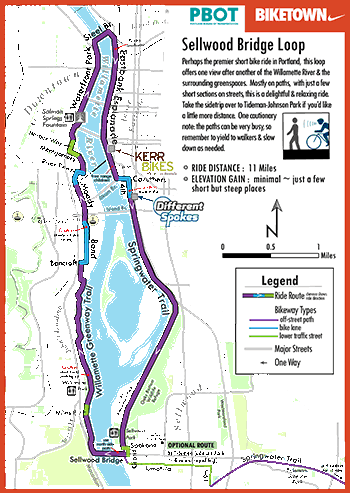 Tilikum Crossing Loop
Distance: 2.4 miles

Named after the local Chinook word for "people", this cable-stayed bridge opened in 2015 & boasts roomy bike/walk paths & shuttles light rail, streetcar & bus passengers across the Willamette. As you cross the bridge, keep an eye out for the things that make it so unique. The bridge's lighting changes depending on the temperature, depth, and speed of the river. And if you look closely, you can find osprey nesting poles at either end.

Waterfront Loop
Distance: 2.6 miles

This could be Portland's signature bike ride, featuring fountains, multiple public art installations, the Japanese American Historical Plaza, a 1200' floating bike/walk path, & stunning river and city views throughout. The Eastbank Esplanade opened in 2001, & Waterfront Park (west side) opened in 1978 after the removal of the Harbor freeway, reuniting Portlanders with their river.
Sellwood Bridge Loop
Distance: 11 miles
Perhaps the premier short bike ride in Portland, this loop offers one view after another of the Willamette River & the surrounding greenspaces. Mostly on paths, with just a few short sections on streets, this is a delightful & relaxing ride. Take the sidetrip over to Tideman-Johnson Park if you'd like a little more distance. One cautionary note: the paths can be very busy, so remember to yield to walkers & slow down as needed.